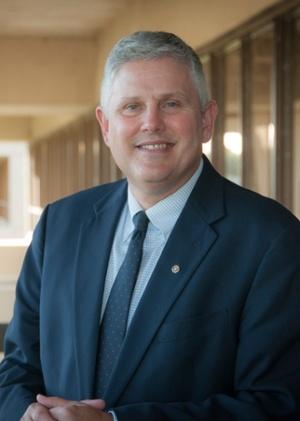 The Sauk Valley Community College Board of Trustees announced today that Dr. David Hellmich will lead the College as its 6th president, beginning July, 2015. Dr. Hellmich will replace current president, Dr. George Mihel, who plans to retire in July after serving as College president for 10 years. The Presidential Search Committee has worked with faculty, staff, and the community since the fall of 2014 to help ensure an open and collaborative hiring process.
Under Dr. Mihel's leadership, SVCC has offered dynamic academic environments for students and the community, developed a strong financial foundation, and continued to develop the College's physical and human resources. Chair of the College's Board of Trustees, Andrew Bollman, offered his parting thoughts on the impact that Mihel has made, "Dr. Mihel came to the College at the perfect time and was a great fit, leaving Sauk one of the most financially sound community colleges in Illinois."
Dr. Hellmich will have many opportunities to build on the successes of the past 10 years and create more avenues of growth for SVCC and the Sauk Valley region. In his acceptance letter to the Board, Hellmich stated, "I am honored to have been selected as the next President of Sauk Valley Community College. The college has a proud 50 year history, and I look forward to working with the board, students, faculty, staff, and community members to ensure the college extends its tradition of serving the citizens of the Sauk Valley area for the next 50 years." Dr. Hellmich has been the Vice President of Academics at Bluegrass Community and Technical College in Lexington, Kentucky since 2006. He and his wife, Linda, will relocate to the Sauk Valley area in the months to come.
The Board of Trustees looks forward to introducing Hellmich to SVCC students, staff and the Sauk community. As the College continues to celebrate its 50th anniversary, the board is confident they have chosen the best candidate to lead Sauk Valley Community College into the next exciting phase of its development.