Sauk Impact Program
Building Bright Futures Through
Earned Tuition
MISSION
The SVCC Impact Program will harness the collective power of Sauk Valley partners and communities to create an effective, supportive, sustainable path for students to pursue a college education and achieve career success through lifelong learning, public service and economic advancement.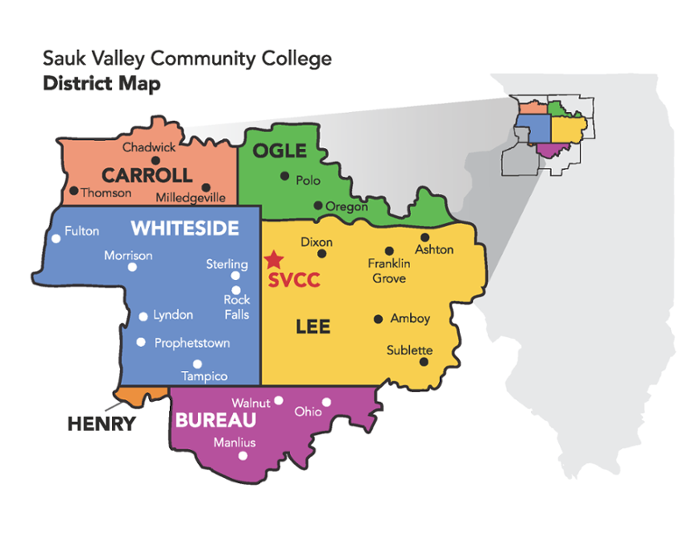 WHAT IS THE EARNED TUITION PROGRAM?
SVCC's earned-tuition program provides eligible students, who graduate within the Sauk district, the opportunity to earn tuition and fees for up to three years at SVCC, or until they earn their certificate or degree— whichever comes first.
HOW DO STUDENTS QUALIFY?
Register for the program by September 1 of their freshman year 
Progress with the rest of their class (graduate on time or early)
Participate in 100 hours of community service before high school graduation (25 hours per year)
Graduate from a high school or home school program located within the SVCC district
Apply for at least one other local/state/national scholarship
Complete the FAFSA—if ineligible to apply for FAFSA—complete the FAFSA forecaster
WHAT EXPENSES ARE COVERED?
Tuition
All Fees
For program-eligible students who graduate in the top 10% of their class, books are covered
Tuition and fee pricing is applied at tiered rates for students who commit after the freshman year, September 1 date
WHAT ARE THE REQUIREMENTS FOR REMAINING IN THE PROGRAM?
Maintain good academic standing—2.0 GPA per semester
Be enrolled in a certificate, degree or transfer program
Complete 25 hours of community service per year
WHEN CAN STUDENTS START SIGNING UP?
The tentative date for students who will graduate high school in 2026 and are in the Sauk Valley Community College district may begin signing up for the program is Spring of 2022.
CONTACT INFORMATION
For more information regarding SVCC's Impact Program, please contact EmmaLea Bittner at emmalea.m.bittner@svcc.edu.