How to Pay
In Person at the Business Office
Cash
Check
Credit/Debit Card
Electronic Checks
Credit/Debit Card
Make College Easier to Pay For with a Tuition Payment Plan.
Make college more affordable by paying for tuition and fees over time. Tuition payment plans break down your tuition balance into affordable monthly payments. There's no interest, payment options are flexible, setup fees are affordable, and it's easy to enroll!
Ready To Get Started?
Payment Methods
Automatic bank payment (ACH)
Credit card/debit card (An additional fee may be assessed)
Payments are processed on the 15th of each month and will continue to process until the balance has been paid in full.
Cost to Participate
$25 Nonrefundable Enrollment Fee per Semester
$30 Nonrefundable Return Payment Fee if a Payment is Returned
To Enroll
Enroll Today
Follow the link above or click on the "Student Payment Portal - Nelnet" link in SOAR.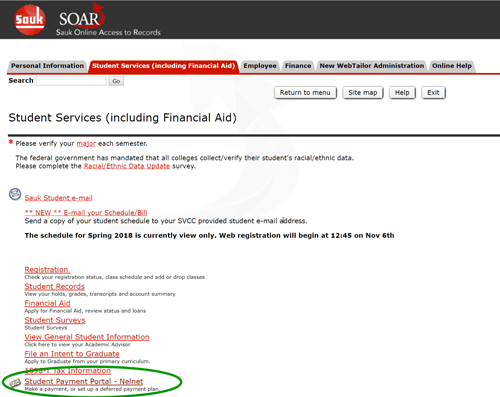 Payment Plan Benefits:
Easy online enrollment
Flexible payment options
No interest
Target Dates To Enroll By
Spring 2022: Payment plan available on November 1, 2021

| Last Day to Enroll Online | Required Down Payment | Number of Payments | Months of Payments |
| --- | --- | --- | --- |
| Nov 1 - Nov 10 | None | 5 | Nov - March |
| Nov 11 - Dec 6 | 20% | 4 | Dec - March |
| Dec 7 - Jan 6 | 40% | 3 | Jan - March |
 NOTE: All down payments and enrollment fees are processed immediately!
Balance Adjustments
Please do not assume your balance will automatically be adjusted if financial aid is received or a class is dropped or added. Adds, drops, and other account activity will change the amount of the scheduled payment. You should review your agreement balance online or call the Sauk Valley Community College Business Office at 815-835-6295 to confirm the change.
Payment Plan Availability
Availability of the payment plan is determined by Sauk Valley Community College. Please be aware the college may elect not to have the payment plan available during specific times and dates during registration.
Downloadable Reference Sheet
Spring 2022