How to Read the Schedule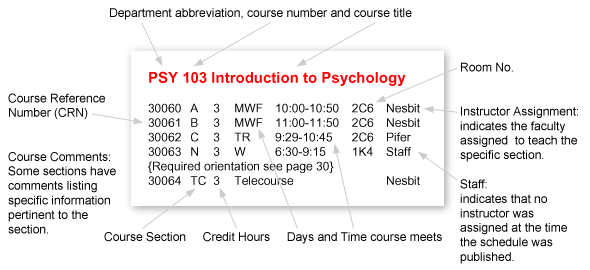 The above example illustrates a typical course listing found in the Schedule of Classes for each semester. To register, students select courses/times and transfer this information from the schedule to a Student Registration Form as shown on page 5. Students registering for math and/or English course(s) or enrolling as full-time student (12 or more hours) will need counselor approval prior to registration.
Abbreviations Used in Class Schedule
M
Monday
 
AU
Audio
T
Tuesday
 
TI
Internet
W
Wednesday
 
TC
Telecourse
R
Thursday
 
N
Evening
F
Friday
 
TBA
To Be Announced
S
Saturday
 
TR
Tuesday / Thursday
 
Room Numbering
The building is divided west to east into sections lettered A through M. A number designates the floor, the letter designates the section, and the numbers following the letter designate the room. Even numbers are on the river side of the building and odd numbers are on the highway side of the building. For example: Room 2K9B is on the second floor, section K, room number 9B (highway side). Room BK2 is in the basement, section K, room number 2 (river side). View the college/campus map.