Day Trips
Check out svcc.edu/trips for upcoming experiences. All trips will be rain, snow or shine. No refunds will be given two weeks before the scheduled trip; however, a substitute may be sent in your place.
If you are a customer at either Sauk Valley Bank or The First National Bank in Amboy you will receive a $5 discount on the day trips. Please register over the phone by calling 815.835.6212 and let us know that you are a customer of the banks. Community Education will verify with the banks prior to processing the trip payment.
Self-Guided Chicago Bus Trip
Travel with us to enjoy the sights, sounds, and holiday lighting of Chicago's famous Michigan Avenue. Explore the city's museums, shops and eateries. This self-guided trip allows you and your friends to enjoy the city without bothersome schedules, stressful driving and parking hassles.
Bus departs SVCC North parking lot promptly at 8:00 a.m., arriving at Water Tower Place (north side of building) at 10:30 a.m. Bus departs Chicago at 5:00 p.m. and will arrive back at SVCC at 7:30 p.m.
CRN:30789
(1 session), Saturday, December 14; 8:00AM-8:00PM
Chicago, IL              Coordinator-Brenda Helms
$39 per person
Chicago Blackhawks vs. St. Louis Blues
Root for your favorite team, as the Chicago Blackhawks faceoff against the 2019 Stanley Cup Champions St. Louis Blues at the United Center in Chicago for a 6:00 p.m. game. We will arrive at the United Center when the doors open at approximately 4:30 p.m. to view on ice warm-ups. Meals will be on your own. Your trip includes game ticket in section 322, rows 14 or 15, transportation, driver tip, and travel snacks. Trip is limited to 29 participants. No refunds after February 8. (All Ages)
Bus departs SVCC North Parking lot promptly at 2:15 p.m. arriving at the United Center at 4:30 p.m. Bus departs United Center once the hockey game ends (approximately 45 minutes) and will arrive back at SVCC at approximately 11:30 p.m.
CRN:80111
Sunday, March 8; 2:15-11:30PM
Chicago, IL
$153 per person
Extended Trips
Stop dreaming and start doing! Join Sauk Valley Community College on these amazing extended trips through Collette. Begin your adventure today!
For more information about trip previews or to request a detailed trip itinerary, contact Brenda Helms at 815.835.6212.
Shades of Ireland - Experience the Magic of the Emerald Isle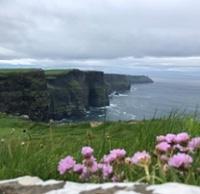 From vibrant and history-filled Dublin, across rolling green hills to the dramatic coast, experience all of Ireland's charm on this magical tour of the Emerald Isle. Live like royalty during an overnight stay on the grounds of a castle. Visit Waterford, Ireland's oldest city, where you'll have the opportunity to visit the House of Waterford Crystal. Choose from a selection of Killarney's best restaurants with our Diner's Choice program. See the Atlantic from the stunning 700-foot Cliffs of Moher. Experience the world-famous beauty of the Ring of Kerry. See sheepdogs in action on a working farm. Explore Dublin with a local guide – either by foot or on a panoramic city tour – it's your choice! See beautiful Killarney from your seat on an Irish jaunting car. Journey to historic Blarney Castle, lean back and kiss its famous stone! Travelers will need a valid passport to attend. (Trip limited to 21 participants)
Trip dates (10 days): Wednesday, April 29 – Friday, May 8, 2020
Cost: $3,699 (double); $4,249 (single); 13 meals included (8 breakfasts, 5 dinners)
Included in price: Round trip air from O'Hare Intl Airport, Air Taxes and fees/surcharges, hotel reservations.
Not included in price: Cancellation waiver and insurance is an additional $315 per person.
Deposit of $500 per person is due upon reservation.
$200 discount per person if reservation made before October 30, 2019
Final payment due February 29, 2020