Sauk has transitioned to a solution from HP Managed Print Services (MPS) and PaperCut to provide modern, convenient, cost-effective printing options.
Toner/Supplies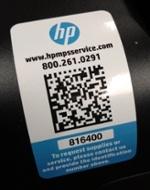 Toner and supplies will be supplied directly from HP MPS. Generally, they will be sent automatically once they get below a certain threshold and delivered directly to the room number. However, should you need supplies, you can call HP's service number and give them the ID number of the printer (every eligible printer has a sticker like the one you see here) for service or supplies. If you have a problem that needs immediate assistance, you can of course still contact Information Services.
There is no additional charge for toner, supplies or service. All charges are per-copy based on the model of the printer and will be charged to your budget monthly. Paper is included in the price of the prints.
Instructions
A number of tutorials for the new HP printers are available under Training in FAST, including the following:
MFP Locations
Follow the link below to see a current map of all the MFP locations available in PDF format.