2020-21 Catalog
(Archived Catalog)
Sauk Valley Community College
Recognized by the Illinois Community College Board
Accredited by the Higher Learning Commission
30 North LaSalle Street, Suite 2400 Chicago, IL 60602-2504
800-621-7440 - HLCommission.org
SVCC Board of Trustees Policy
The Board of Trustees are elected by the people of the College District. The Board hires the President and approves all other appointments and positions. The Board also sets the basic policies and budget for the college with input from faculty, staff, and students. The Board meetings are open to the college community. Refer to www.svcc.edu/about/board-of-trustees for Board meeting agendas, minutes and Board policies.
Mission
Sauk Valley Community College is dedicated to teaching and scholarship while engaging the community in lifelong learning, public service, and economic development.
Shared Ethical Values
Sauk Valley Community College respects the worth and dignity of all people; stands for integrity and fairness; and encourages responsibility, accountability, and persistence in a caring, supportive environment.
Strategic Vision
Sauk Valley Community College will be a leader in student achievement while expanding access to higher education across the Sauk Valley region.
Important Telephone Numbers
Phone 815-288-5511
E-Mail Address - skyhawk@svcc.edu - Web Site - www.svcc.edu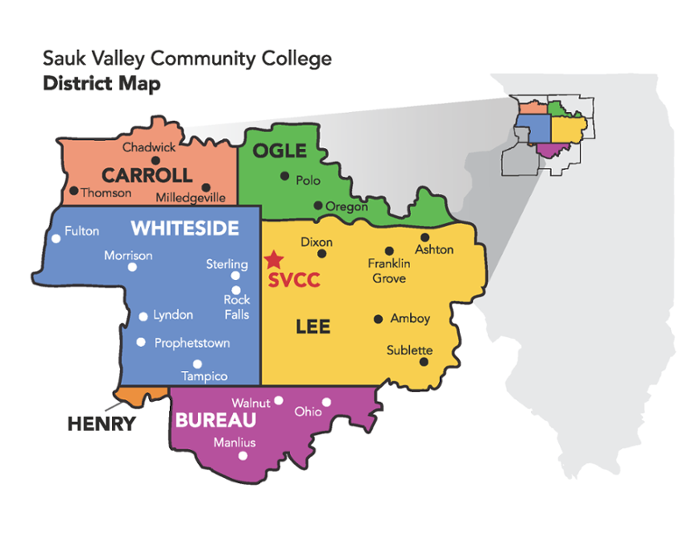 For catalog updates - www.svcc.edu - SVCC Resources - College Catalog
The information in this catalog is subject to change by Sauk Valley Community College, and its inclusion in this document is not intended to and does not constitute a contract. The College reserves the right to make changes as necessary to the information contained in this catalog.